---
Grateful acknowledgement is given to the National Science Foundation for providing funding for this project, DUE-9972280 and DUE-9980768

This website is in cooperation with the "Dolce" project (Developing Online Computer Ethics).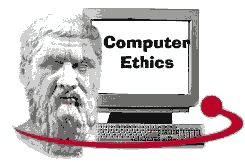 Some of the documents on this site are available in PDF format. Click the image below to get a free download of Adobe Acrobat Reader.

To find out a little about the people who have contributed to this project, click below

Welcome to ComputingCases.org, a web site designed to help you teach ethical issues in computing.
On this web site, you will find:
Extensive historical cases in computing ethics. Each case includes several personal narratives, timelines, detailed social and ethical analysis, teaching guidance, and supporting documents.
Sets of classroom exercises and assignments associated with each case and keyed to the computing ethics curriculum.
In depth essays about teaching computer ethics with cases.
Some advice about constructing grading rubrics
Background information about the various recommended computer ethics curricula.
A careful introduction to Socio-Technical Analysis as a way of understanding the ethical issues in computing systems.
Guidance in using Socio-Technical Analysis as a term long project to teach social and ethical issues.
Many additional resources.
Computingcases.org is divided into two primary components; case materials and general tools. The case material section contains all the historical cases, their supporting analyses and documents, and the classroom exercises. The general tools section contains all the remaining items from the list above, including essays about teaching guides to computing ethics curricula, and an index of the exercises.
Under Construction
The project to produce this site began in early 2000 with the generous support of the National Science Foundation. There are currently three complete cases on the site with more than 15 exercises associated with them. We plan to make more cases available in the future with the cooperation of Jones & Bartlett Publishers. Please e-mail computing cases with questions or comments.